When Size Matters!
Image Square Printing in Santa Monica are experts in large format printing for over 20 years. Our state of the art facility uses the most up to date and the finest large format printers available. There are no jobs too small, large, or complicated. We offer the finest personalized service, quickest turn around time, free delivery within our metro areas and you will not find better prices.
Large scale printing is another term for large format printing. Our cutting edge facility with over 20 years of experience can handle the most demanding jobs to mass production jobs with speed, quality, knowledge, and pricing that will have you coming back. Image Square has a local shop feel but its facility is commercial in size. Our seamless, consistent process coupled with our experience and service makes us the right choice every time.
Here are just some of the large scale, large format printing projects that we print:  
Our personalized white-glove service is why clients stay with us for years and become our best sales ambassadors
Wide Format Printing
Image Square's state of the art facility has the capability to print from 18 inches wide to 100 inches wide, this means that if you need it we can deliver to Santa Monica, Los Angeles, Las Vegas, or anywhere nationwide. The wide-format printers we have are roll-fed so your job can be as long as the rolls of paper or material we are printing. Our years of experience means that there is no job that is too complex or beyond our ability. We have pioneered many of the applications that have now become industry standards. Experience also means speed, accuracy, and price, Our set up times, project knowledge, and because everything is in- house, you can be assured that your project is done quickly, cost-effectively, and correctly the first time.
Large Scale Printing
Our staff has been helping clients get exactly what they want when they need it and within their budgets. Image Square Printing is here to help the most knowledgeable clients to clients that are new to large format printing. Below are just of few of the jobs our Large Format Printing can do for you or your business:
Architectural Printing
Construction Signage
Interior Décor Printing
Real Estate Signs
Construction Signs
Banners and Posters
Promotional Materials
Safety Signage
Outdoor Signage
Window Wraps
Wayfinding
Trade Show Graphics
Retail Window Displays
Point-of-Purchase Displays
ADA Compliant Signage
Event and Conference Materials
Wall Art
Backlit Signs
Branding Opportunities
Billboards
Bus Advertising
Window Mesh Signs
Large Format Printers
Image Square printing has specialized in large format printing for over 20 years serving Santa Monica, Los Angeles, and Las Vegas. That is why movie studios, advertising agencies, outdoor advertising, transportation advertising companies, and conference companies have been working with us for years. They know that we are their one-stop-shop for all of their needs. There are no jobs that are too complicated or that our world-class facility cannot produce exactly the way they want it and on the material they want it printed on.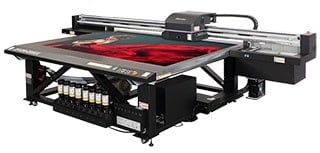 The "JFX200-2513 EX" is a large format flatbed UV inkjet printer that combines high-value-added printing and high productivity.
Print Dimensions (WxD): 98.4" x 51.2"
[UCJV300 Series] is a versatile inkjet printer having a combined function of both printing and cutting mounted with UV-curable ink.
[UCJV300 Series] is a high spec model equipped with the 4-layer/5-layer print function in addition to UV LED print and Print&Cut. This new model is enough to cover wider ranges from a quick job with the short delivery time to an avant-garde signboard.
World standard of multi cutting plotter
Continuous crop mark detection
Long accurate tracking
FineCut – Plug-in for print & cut solutions
Print Dimensions (WxD): 62.9″ x 167′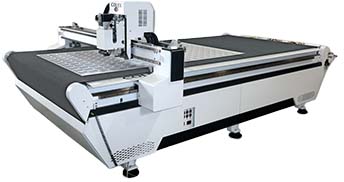 Prints and cuts boxes and POS/POP displays
Compatible with 3D Software with third party CAM software package including V-Carve, Enroute, Aspire, Cut3D, BobCAM, etc.
3D signage, wood carvings, and cabinetry up to 2" thick.
Creates Braille Signage
Fabric/Textile Cutting
Board feeder designed to load a large array of material sizes and thicknesses.
Reads any diameter registration mark, crop mark, or square resulting in highly efficient production.
Print Dimensions (WxD): 10′ x 5.5′
Get vivid color and consistent quality over time
Produce highly saturated prints with up to 50% more ink density,3 using vivid print modes
Print colors right the first time with the i1 embedded spectrophotometer4 and HP Custom Substrate Profiling
Consistent, day-one image quality over time—native 1200 dpi, the user changes printheads, auto nozzle replacement
Handle robust tiling applications with consistent colors to <= 2 dE20005 and +/- 1 mm/m length accuracy
Print Dimensions (W): 64″
The HP Latex 365 Printer produces indoor and outdoor prints on a variety of traditional signage substrates—even textiles.  And high-quality, durable prints provide scratch resistance comparable to hard-solvent inks.
Print Dimensions (W): 64″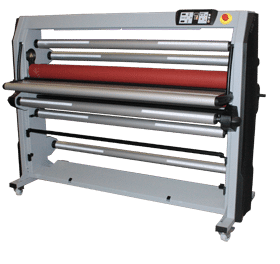 Hot and cold laminator for extremely demanding finishing requirements.
Available in 2 widths 1600 mm (63") and 1080 (42,5").
Your On-line and personal source for all your large format printing needs serving Santa Monica and Los Angeles for over 20 years. Our personalized service, attention to detail, and cost-saving pricing make us the only large format printer you will ever need. Call us today at 310-586-2333 to see how easy printing can be.