Expert Printing | World-Class Materials
We work with DryTac™, one of the world's foremost expert manufacturers of adhesive-backed vinyl printing substrate and digital wall coverings. The material options from finish to texture are created to complete your vision.
Textures include:
Smooth Matte
Woodgrain Matte
Linen Matte
Canvas Matte
Sand Matte
If you don't see the kind of digital wall coverings that you want on this list, that is no problem. Our experts are ready to work with you and make sure that your ideas become reality.
For the Home
Attention Interior Designers and Architects! Because of new printing technologies and materials, being able to create one of a kind spaces for your clients has never been easier or more cost-effective. If your vision is for custom wall designs and in the past, you have used artists and expensive wallpaper then you have to look no further. We can take any image, shape, or design and print it on an advanced vinyl substrate that is easy to affix and lasts a lifetime. This process is effectively much less expensive than artists and wallpaper in many cases and the options are endless.
The digital wall covering option can give every room in the house a unique and special feel. By custom printing wall coverings, dark rooms can be brightened, certain aspects of rooms can be highlighted, and children's rooms can become a wonderland for them. With our custom digital wall covering printing techniques, there is no design or image that cannot be printed to create the uniqueness you envision.
We provide premium quality custom digital wall coverings to the Los Angeles area.
For Businesses, Hotels, Restaurants, Hospitals, Museums, and Health Care Facilities
If you are a Corporate Interior Designer of Architect and you have been struggling to find interior solutions to walls and signage, then custom Digital Wall Covering is the solution. Our advanced printing technology along with the use of vinyl substrates allow you to create unique cost-effective interiors. These interiors can be for messaging or creating a mood. We print on today's most durable and easily affixable vinyl substrates. Making your choice of this part of your design cost-effective for your client and one that will last.
Custom Digital Wall Covering printing is perfect for creating looks and feeling without the expense of actually creating the setting. Restaurants and Museums use digitally printed wall covering to transport you to different times and places further enhancing your experience. Hospitals use our technology to direct people to certain departments along with inspiring messages to brighten the feeling of being in the hospital. Sporting venues use digital wall coverings as signage to help spectators find what they are looking for in the venue.
Corporate Wall Graphics
What Are Corporate Wall Graphics?
Corporate wall graphics are a subcategory of our custom wall graphics. Designed to cater only to corporations who are looking for custom wall graphics to show their brand and identity. Such graphics typically involve signage, lettering or decals placed on a wall and windows inside or outside an office building. Companies regularly use these graphics for aesthetic purposes, as they can improve the appearance of an office's walls.
Corporate wall graphics create lively environments that represent your company brand. It can make employees' and your client's time more enjoyable.
Three Main Types of Corporate Wall Graphics:
CUSTOM LETTERING AND LOGO: Custom lettering is a popular option for companies who want to brand their building and offices with custom messages and the company's name. They are made of substrates such as Acrylics, Polycarbs, Aluminum High density PVC. They can be flat against a wall or have a depth. These letters and logos can be colored or custom printed. They are custom die cut to shape and are ready to apply. The letters will typically come in attractive fonts, colors, shapes, and sizes to improve the appearance of the walls and windows.
DECALS: Decals are relatively inexpensive. They are made of vinyl, can be as simple as white or printed in any color. We die cut them to shape, remove any excessive material and then we will affix "Ready To Apply" or simply RTA tape on them. Our installers love this technique due to their quick installation process. You can think of vinyl decals as professional-looking stickers that can contain your brand information or simply motivational messages in any colors. These decals are not permanent and do not leave any residue once removed, hence, you can regularly switch out your messages and graphics on your walls or windows. They also are flexible in size, ranging from tiny graphics to full wall decals.
Turkish Airlines Corporate installation - Los Angeles, California
WALL MURALS: No matter what size your wall is, our wall murals are perfectly fitted to be installed on your wall. All we ask you is prior to our installation team's arrivals please, provide us with dry and smooth surface wall. We work with your agency and your graphic design team to make sure you will get the most artistic and eye-catching type of corporate wall graphic you can get. Our wall murals are designed to be used on both Indoor and outdoor walls. These murals are typically available with a wide selection of images, graphics, and colors. Add an artistic feel to your interior office walls by simply letting us print large and colorful wall murals and we install it for you as well.
Outdoor wall murals are typically used to make your office an inviting place for your clients and employees. No matter if you are on the ground floor or you have the entire building, we have licensed installer and industrial machinery to install your colorful outdoor wall murals.
Magnetic Wall Coverings offer a modern and stylish way to decorate any bare wall. Magnetic wall coverings offer large format printing with no edge clipping at an affordable price point. Magnetic wall panels stick to your wall. Just paint the wall with a magnetic receptive primer base and apply your favorite paint color. Print your graphics on our magnetic material, any size. For oversize walls larger than 50 inches, we will make them in segmented panels.
How Do I Install Magnetic Wall Panels?
An elegant solution to transform a boring wall into a high-tech canvas.
Print your own images, so you can make a one-of-a-kind work of art.
No installation. No need to worry about size limitations, just get it and hang it up with no damage to the wall!
Transform any space into an exciting area that will keep guests and visitors coming back for more.
Suitable for meeting rooms, offices, business areas, hotels, and lobbies.
Apply a magnetic receptive primer base then apply your favorite color paint for a 100 magnetic converge; no painting is necessary, only apply magnetic primer.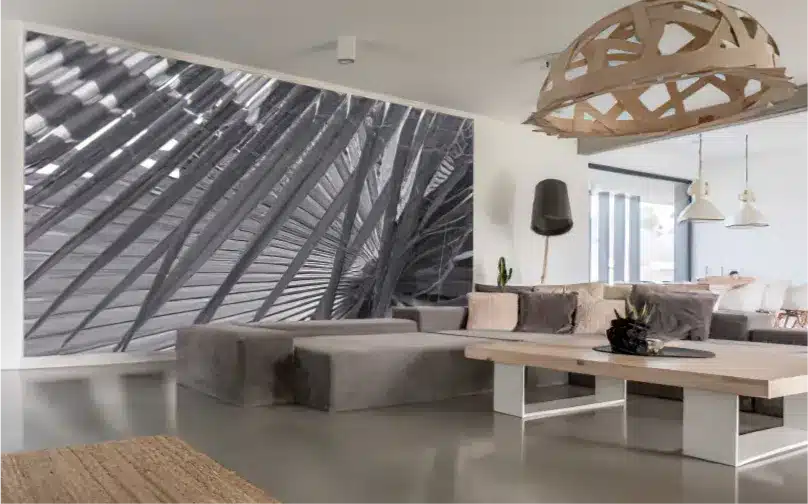 Uses for Magnetic Wall Coverings
Retail POP / POS
Fixtures Graphics
Menu Boards & Directories
Interior Design Decoration
Reception Area
Hotel Lobby
Restaurants
Advantages of Magnetic Wall Coverings
Suitable for digital large format printing
Does not damage walls
No installation required
Provides excellent durability
Recommended for flat panel applications
The uses are as endless as your imagination. The durability, ease of installing and low cost make custom digital wall covering a necessary part of you design process.
Call Us Today To Discuss Your Custom Digital Wall Covering Project!