What Are Corporate Wall Graphics?
Corporate wall graphics are a subcategory of our custom wall graphics. Designed to cater only to corporations who are looking for custom wall graphics to show their brand and identity. Such graphics typically involve signage, lettering or decals placed on a wall and windows inside or outside an office building. Companies regularly use these graphics for aesthetic purposes, as they can improve the appearance of an office's walls.
Corporate wall graphics create lively environments that represent your company brand. It can make employees' and your client's time more enjoyable.
Three Main Types of Corporate Wall Graphics
Custom Lettering and Logo
Custom lettering is a popular option for companies who want to brand their building and offices with custom messages and the company's name. They are made of substrates such as Acrylics, Polycarbs, Aluminum High density PVC. They can be flat against a wall or have a depth. These letters and logos can be colored or custom printed. They are custom die cut to shape and are ready to apply. The letters will typically come in attractive fonts, colors, shapes, and sizes to improve the appearance of the walls and windows.
Decals
Decals are relatively inexpensive. They are made of vinyl, can be as simple as white or printed in any color. We die cut them to shape, remove any excessive material and then we will affix "Ready To Apply" or simply RTA tape on them. Our installers love this technique due to their quick installation process. You can think of vinyl decals as professional-looking stickers that can contain your brand information or simply motivational messages in any colors. These decals are not permanent and do not leave any residue once removed, hence, you can regularly switch out your messages and graphics on your walls or windows. They also are flexible in size, ranging from tiny graphics to full wall decals.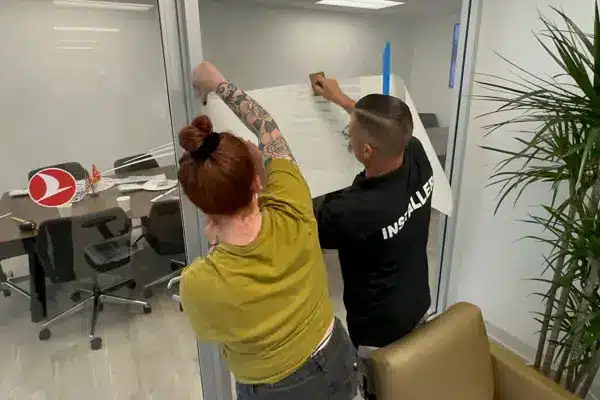 Wall Murals
No matter what size your wall is, our wall murals are perfectly fitted to be installed on your wall. All we ask you is prior to our installation team's arrivals please, provide us with dry and smooth surface wall. We work with your agency and your graphic design team to make sure you will get the most artistic and eye-catching type of corporate wall graphic you can get. Our wall murals are designed to be used on both Indoor and outdoor walls. These murals are typically available with a wide selection of images, graphics, and colors. Add an artistic feel to your interior office walls by simply letting us print large and colorful wall murals and we install it for you as well.
Outdoor wall murals are typically used to make your office an inviting place for your clients and employees. No matter if you are on the ground floor or you have the entire building, we have licensed installer and industrial machinery to install your colorful outdoor wall murals.
Call Us Today To Discuss Your Corporate Wall Graphics Project!